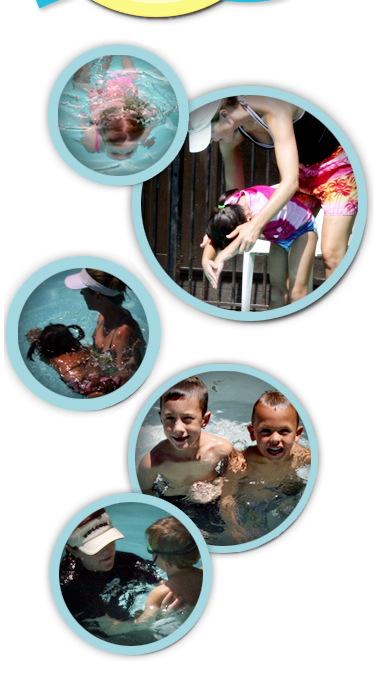 1. What is the best age to begin my child in swim lessons?
On average, three years of age is the best age to begin. At this age, they can listen to and follow instructions, they can coordinate their arms and legs moving simultaneously, but in different directions, are able to hold their breath underwater, can float on their backs, and have fun at lessons. Most importantly, at three years of age, they can DEFINITELY become water safe. If they were to fall in the water, they would know how to swim to a side of the pool for safety.

2. How do I register for a teacher to come teach at my own pool?
Email us at swimmingsuccess@hotmail.com and we will email you back. You may leave a phone number for a return call as well.
3. Will you come teach at my own personal pool?
Yes, but your pool needs to be heated to at least 88 degrees and you must have a minimum of 3 children taking private lessons at your pool.
4. Does my pool have to be heated for lessons to happen?
Yes, to at least 88 degrees.
5. Is there a travel fee for the instructor to come out to my home?
Only if you live 20 miles from LaCrescenta.
6. Is there a max or minimum for how many students can be at my own personal pool?
You must have at least 3 children taking private lessons at your pool. They can be friends, neighbors, or relatives. You can have as many children as you want take at your pool. Once you have 6 kids taking lessons, we will send out 2 instructors to your pool to cut down the time of children taking lessons in your pool.
7. Should my child's wear water floaties?
No. Please do not have your child wear floatation suits, floatation devices, "water wings", scuba masks, or any aquatic device that might hinder your child's education of water skills.
8. Can my child wear goggles?
Your child may wear goggles if they have passed the Goggles Swimming Test.
9. What is the Goggles Swimming Test?
The swimmer must be able to do freestyle, backstroke, and jump in the pool without their goggles on. This will show the instructor that they are not dependent on their goggles in order to swim and could swim safely to the side of the pool if they were to fall in.
10. Should I sign up for more than 1 session?
I highly recommend more than 1 session for beginner swimmers. As a parent, just knowing how to swim isn't enough for me. I want them to be a strong, confident swimmer. The strength and confidence comes with practice and being in another session.
11. Do you teach intermediate and advance swimmers?
Yes! After teaching freestyle, we teach backstroke, elementary backstroke, breaststroke, butterfly, sidestroke, diving, and lifesaving skills. We also clean up the technique in these strokes if your child already knows them.
12. What if I miss a lesson?
Click here for our make up policy.
13. What if I am late to a lesson?
Due to being on a very tight time schedule, the instructors all stay on a schedule time. Therefore, your lesson will always end at the same time whether you had the full 25 minutes or not due to being tardy.
14. What if my child cries or is afraid?
Our teachers are trained to deal with even the most fearful swimmer. Our Instructors will stay patient and encouraging but persistent so that all of our swimmers learn to their maximum capacity. Most young children will cry the first few lessons due to not being with their parent. We encourage you to sit on the grass below the pool deck, where you can see your child, but they cannot see you. This way your child can begin bonding with his/her instructor without you in site. Progress will happen sooner with this rule followed. If any parent is sitting by the pool and it is affecting their own children or any other child in the pool with their learning ability we will request you leave the pool area.
15. What if my child doesn't want to get in the pool?
It is best to walk your child over to the side of the pool and hand them to the instructor, even if they are kicking and screaming. Sometimes the anticipation of actually getting in the pool is the hardest part for the child. The teacher will help calm the child down. You may hug and cuddle your child before lessons, but once their lesson time begins, they are expected to be in the pool.
16. What if my child is still crying on the 2nd and 3rd day of lessons?
This is VERY common. The crying usually stops by the 4th day of lessons. As a parent, don't give up or give in. The crying eventually stops and a love for the water begins.
17. Do I need to practice outside of lesson with my child?
Yes. Your child will improve so much more if you practice outside of lessons. Some of the exercises can be done on a bed, on a floor, or even in a bathtub. The best practice, of course, is swimming in a pool with them.
18. Do you teach adults?
Yes, every year we teach adults. Adults tend to be embarrassed taking lessons with little kids in the pool. So we try as best as we can to schedule the adults at the beginning or end of the day before kids are in the pool swimming.
19. What about teacher request?
Some of our students and many of our parents have become fond of a particular instructor. We are aware and understand that different students respond to different teaching personalities. We will always try to respond to these needs. However, we do not guarantee specific instructors and we reserve the right to change instructors if other considerations necessitate the change. We strive to place instructors in positions to provide the best swimming experience for your child.
20. What if I have questions or comments about my child's lessons or class?
All questions can be addressed through Karalynne Call or Hayley Schwab. You may call her at (919)673-7152 or email her at swimmingsuccess@hotmail.com at anytime. We are here to help your child learn as much as they can in the 8 days and to have a positive experience.
21. Why Swimming Success over other swim schools?
Because we are SUCCESSFUL! Your child will be swimming with us. It's not a waste of time for the parent or the child. Plus, the child will have fun while learning with awesome amazing instructors.

22. Can I receive a refund?
Only if you cancel 30 days prior to your lesson start date. If you begin your lessons, and then decide to quit, there are no refunds.