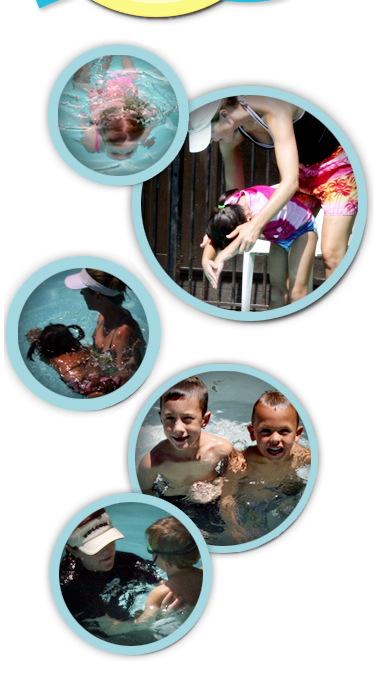 Karalynne started teaching private swim lessons over 25 years ago, and has now owned the Swimming Success business for 23 years. Karalynne is a mother of 6, and loves working from home so she can spend time with her children. She loves seeing her business grow, especially as it's turning into a family business with her oldest son now as a swim instructor, with many more children perfecting their swim strokes to someday follow. The greatest blessing in Karalynne's life is her children!
Karalynne started teaching swim lessons after watching many nieces, nephews, and friends children waste their time by not achieving many results in group swimming lessons, she wanted to teach children how to truly swim and be water safe to reduce the risks of drowning. As a parent herself, she realized that this type of group lesson was also a waste of time for the parents, driving the children back and forth to lessons all summer long. Karalynne wanted a method where the kids could quickly learn to be water safe within a few days so it was not a waste of time for the parents or the child. At the same time, she wanted a fun program for the children, yet one where achievements were made.
A method was developed which we call the Swimming Success method. This method is one of persistence and firmness with the child, but yet patience and fun at the same time. It is not a sit on the step, wait your turn, and blow bubbles type of program. With this method, the children work hard their entire lesson while having fun, and in the end the parents can expect to see great results. All of the instructors are trained to use the Swimming Success teaching method of instruction.

Swimming Success remains to teach only private one on one lessons due to the great success that has been seen through the years. A one on one ratio lets the instructor individualize their lessons to meet each child's particular needs and abilities. At Swimming Success we teach our specialized classes for infants and toddlers, beginner swim lessons, intermediate swim lessons, advanced swim lessons, diving, preparation for swim teams, lifesaving skills, and even Boy Scout requirements. Regardless of the level, our instructors guide students to attain their best while enjoying the sport of swimming and having fun.

Instruction and water safety can begin as early as 2 years of age up to adults, with results beginning at 3 years of age. Students will learn the basics of freestyle, backstroke, elementary backstroke, breaststroke, butterfly, side stroke, floating, diving, and swimming underwater. Our swimming environment is fun for the children, yet very productive and rewarding.